Box-office Flash 12 - Record being created in Sivakasi!!
Date : 05/07/07
In, Sivakasi, Tamil Nadu's Kutti Japan – Sivaji is released in Sri Palani Andavar theatre which has a seating capacity of 800 nos.
What are the records it created in this theatre?
1) Opening day's all shows were taken by local fan clubs and the fan club president said they made huge profits and all shows were houseful.
2) The tickets were priced at Rs.150/- for first day and this is the first time in Sivakasi's history a film ticket is priced this much
3) And for the first day first show the local club arranged Vadipatti Mela Vaadhiyam and fireworks and then Sivaji was screened.
4) For the first 10 days the tickets are priced at Rs.70 and 50. This is also a record in Sivakasi. (Other films wont cross Rs.30/ after first show.
5) The crowd of fans was managed to fill the halls by 4 days and from 5th day onwards there's slight fall and again after a few days family audience started pouring in and from then the theatre is running to houseful shows. The average occupancy is 60% in weekd days and 100% in weekend. (Generally since this is a industrial town - people wont prefer Noon or matinee show since they would be in work. Only evening and nightshow used to become full - this is for all movies.)
6) Now the ticket is priced at Rs.50/- and Rs.30/- And this is also a record in Sivakasi – a film ticket rate is Rs.50 even after 17 days.
7) Other film ticket rates would be Rs.20/- only.
8) The rate of film roll for this theatre is Rs.20/- lakh and thw theatre recovered the cost in 2 weeks and now making profits.
9) Chandramukhi was procured by this theatre for 12 lakhs and 100 days collection was Rs.45 lakhs!! (No other film collected like this and Sivaji alone expected to break this record)
10) Within 18 days 29,765 peoples saw Sivaji in this theatre. (On first three days an extra of 40% audiences were inside and they didn't mind to watch Sivaji in standing. And there were spl shows too.
11) The total of 60% to 70% population of Sivakasi is expected to see Sivaji in this theatre and this is also is a record.
12) The theatre management hopes Sivaji will break CM's collection and days record.
Pls find fanfare at Sivakasi Palani Andavar theatre during the FDFS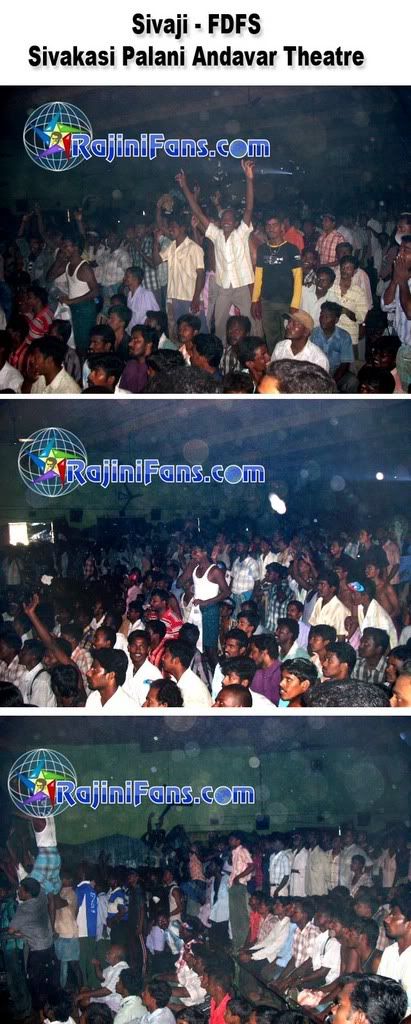 Sundar
(With Inputs from our Sivakasi member Ponraj)